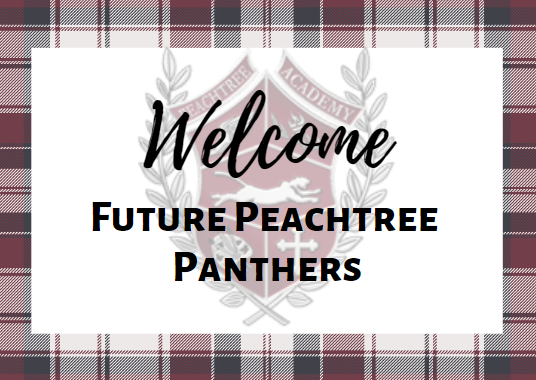 If you would like to enroll a new student here at Peachtree Academy, please complete the following seven-step New Admissions Process:
Step 1: We encourage prospective families to come and see our private school prior to completing our online application. You can schedule a tour of the Peachtree Academy campus of your choice by calling 770-860-8900 ext. 1006.
Step 2: After your tour is completed you will receive a packet with more information about our school and be encouraged to revisit our website to fill out the online application. You can do that by clicking the "Application Form" button at the bottom of the page. Once the online application is submitted, all supplemental application forms have been received, and the non-refundable application fee has been paid the application will be assessed and a shadow/testing day will be scheduled.
Step 3: Once we have received the application and all supplemental application forms a shadow/testing day will be scheduled. We will reach out to you to have your student come in and spend the day at our school with one of our students. While visiting the school we will complete admissions testing with your student.
Step 4: After all information is received the students application file will be reviewed by the Admissions Board for acceptance. Notice of acceptance will be provided within 2 weeks.
Step 5: After acceptance once additional registration forms will need to be submitted with payment of the non-refundable Registration Fee of $0.00 (This will need to be included for each grade level).
A student's registration packet will be considered complete when it contains the following documents:
Tuition Agreement (completed in full with parent signatures)
Medical Emergency Form
Parent Involvement Contract
Copy of student's birth certificate
Certificate of Immunization (Form 3231)
Certificate of Eye, Ear and Dental Exam (Form 3300)
Step 6: Once all required documents are received you will make your matriculation payment in order to secure your child's position within our student body. Once this is received we will have a start date for your student.
Finally, Welcome to the Peachtree Academy family!