We invite parents, community leaders, and friends to unite with us and support the community's finest college preparatory school for Pre-Kindergarten through 12th grade. Peachtree Academy is constantly striving for the very best when it comes to student opportunities, not only in academics or athletics but that which embraces Christian values and promotes the highest educational standards possible. Educating our youth is an active process requiring the commitment of all. As you visit Peachtree Academy, you will discover students actively involved in the learning process. You will see families volunteering their time and talents in support of academic success for our children. You will observe a staff that is professional and dedicated to teaching young people to the highest levels of achievement. You will witness a school dedicated to academic excellence. At Peachtree Academy, we believe in…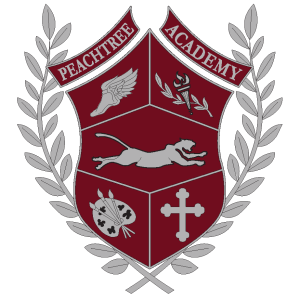 Educating the whole child. Our curriculum features a full array of AP courses, as well as a wide-range of academic classes taught by educators who are highly skilled at bringing out the best in each student. Our classes and programs are designed to promote growth and achievement in intellectual, social, emotional, physical, and spiritual development. Additionally, programs are also offered to enrich the classroom experience such as student internships, work based learning, dual enrollment with local colleges, field trips and college visits for all high school students.
Respecting diversity and individuality. Peachtree Academy places strong emphasis on appreciating the cultural richness of our school and world. Embracing Christian values, students are encouraged to develop themselves as individuals while learning to become contributing members of their classrooms.
Providing an enriched environment for learning. Our curriculum and instructional strategies are carefully selected to include: hands-on learning, content enriching projects, progress monitoring, data-driven instruction, and use of state of the art technological resources in the development of students as problem solvers and critical thinkers.
Implementing a team approach to educating children. We view parents, grandparents, students, and teachers as vital components to the success of each child. We believe that families play a crucial role in all parts of school life.
It is our honor and privilege to work with you. Together, our investment of time with our children will pay great dividends. We look forward to meeting each of you and officially greeting you as a vital member of the Peachtree Academy family.
Peachtree Academy Leadership Team
770-860-8900