Basic Agriculture Course Description: This course is designed as the foundational course for all Agriculture, Food & Natural Resources Pathways. The course introduces the major areas of scientific agricultural production and research; and presents problem-solving lessons and introductory skills and knowledge in agricultural science and agri-related technologies. Classroom and laboratory activities are supplemented through supervised agricultural experiences and leadership programs and activities. This course is the prerequisite for all AFNR pathways. Based on enrollment and student interest, Peachtree Academy looks to add AFNR Pathways beginning in the 2024-2025 school year. Possible Pathways we could offer in the near future might include:
Ag Food and Natural Resources

Animal Science

Plant Science

Horticulture

AgriBusiness

Veterinary Science

Environmental and Natural Resources

Nursery and Landscape

Food Science

Welding

Small Engines
Peachtree Academy Agriculture Education currently provides hands-on experience with our own school chicken coop. We also have plans to install hydroponic vegetable production systems, a show rabbit herd, raised vegetable beds, a pollinator garden, a variety of composting systems, and an aquaponics system. We also anticipate that we will have students ready for livestock shows in the coming year. This is a brand-new program! We are looking forward to partnering with community members as we grow. If you have any questions about sponsorship packages, please contact Mrs. Jennifer Peters at jpeters@peachtreeacademy.com
What is FFA?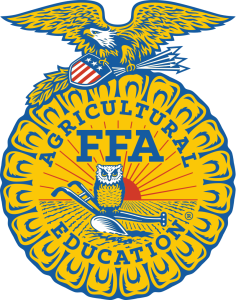 FFA is an intracurricular student organization for those interested in agriculture and leadership. Membership is open only to Agriculture students and is required of all students enrolled in Agriculture classes.
FFA is a dynamic youth organization that changes lives and prepares members for premier leadership, personal growth, and career success through Agricultural Education.
FFA develops members' potential and helps them discover their talent through hands-on experiences, which give members the tools to achieve real-world success.
FFA Vision
Growing the next generation of leaders who will change the world.
FFA Mission
FFA makes a positive difference in the lives of students by developing their potential for premier leadership, personal growth, and career success through agricultural education.
To accomplish its mission, FFA:
Develops competent and assertive agricultural leadership 

Increases awareness of the global and technological importance of agriculture and its contribution to our well-being.

Strengthens the confidence of agriculture students in themselves and their work.

Promotes the intelligent choice and establishment of an agricultural career.

Encourages achievement in supervised agricultural experience programs.

Encourages wise management of economic, environmental, and human resources of the community.

Develop interpersonal skills in teamwork, communications, human relations, and social interaction.

Build character and promote citizenship, volunteerism, and patriotism.

Promotes cooperation and cooperative attitudes among all people.

Promotes healthy lifestyles.

Encourages excellence in scholarship.
FFA members conduct themselves at all times to be a credit to their organization, chapter, school, community, and family. FFA 
members pledge to:
Develop my potential for premier leadership, personal growth, and career success.

Make a positive difference in the lives of others.

Dress neatly and appropriately for the occasion.

Respect the rights of others and their property

Be courteous honest and fair with others.

Communicate in an appropriate, purposeful, and positive manner.

Demonstrate good sportsmanship by being modest in winning and generous in defeat.

Make myself aware of FFA programs and activities and be an active participant.

Conduct and value a supervised agricultural experience program.

Strive to establish and enhance my skills through agricultural education in order to enter a successful career.

Appreciate and promote diversity in our organization.




Adopted by Delegates at the 1952 National FFA Convention.
Revised by the Delegates at the 1995 National FFA Convention.
Sources: National Association of Agricultural Educators (NAAE) & National FFA Organization, GA Department of Education