Students utilize a state of the art computer lab and library for learning enhancement. Our students compete in a variety of academic events including Math Olympics, Creative Writing, Spelling Bees, Speech Meets and Science Fairs. At Peachtree Academy we expect our students to be well-rounded and encourage them to participate in extra-curricular activities (soccer, baseball, language classes, chess, drama, music, and dance).
Our faculty strives to strengthen the partnership with our parents in rearing students fully committed to higher learning with an understanding of scripture and how to apply it in daily life. Our low student to teacher ratio gives our students an opportunity for one on one instruction and innovative learning. The exceptional teaching staff encourages students to be lifelong learners, who are equipped with the necessary skills and knowledge that will prepare them for success now and in the future.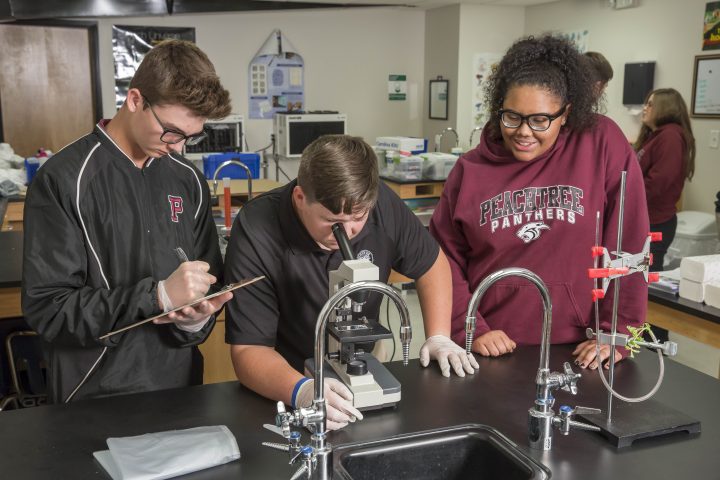 Four campuses serve the East Metro area with both early childhood programs that are offered at our sister school, Peachtree Prep as well as our private Pre-K through 12th grade. The school has grown out of parent demand for a strong academic curriculum in a safe Christian environment. Due to the emphasis that we place on a well rounded education, we also offer full and part time early childhood programs, after school enrichment programs, school break camps and a highly acclaimed Christian summer camp. Our school is committed to offering our students the best opportunities available in education. We see our graduates having the tools to excel in their community through knowledge and leadership. The expansion of our extracurricular clubs and sports programs enhances our outstanding academic repertoire and makes Peachtree Academy a one stop place for all of a child's needs.
Please call us today at 770-860-8900 ext. 1006 and find out how to give your child the finest education available to them. Peachtree Academy admits students without regards to sex, race,color,or ethnic origin. Peachtree Academy promotes an equitable, just and inclusive community that inspire students to respect and value diversity.